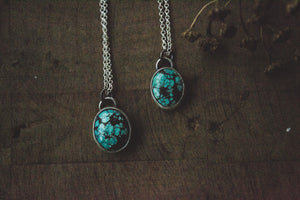 Two little hubai Turquoises. They all will come on 16" chains unless otherwise noted (please email me!) They will also come in 3 separate boxes for gifting :) 
Hand stamped with silver 925. 
All items are handmade by me, and may have natural imperfections. This is something I personally adore, a piece with a story to tell. A stone specifically chosen for each piece, set step by step, silver hand forged. This is something I truly put my heart and soul in, and I hope its something that you appreciate for years and years to come.