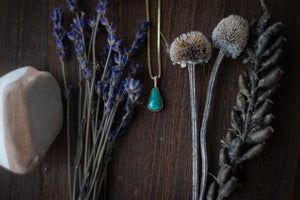 Well I sure dont think there is anything better than these gold necklaces. This little Royston Turquoise stone is wrapped in 14k gold bezel, with a gorgeous 14k gold bail. The back plate is sterling silver, and the chain is a 16" gold fill chain. 
Stone measures 0.28" by 0.43".
The chain can be changed upon request!! Just shoot me an email and I'll change it up for you. The chain may not be available ready to ship, but I will be in communication with you, and tell you how long you may have to wait. 
This item is stamped with 14k and silver 925. 
All items are handmade by me, and may have natural imperfections. This is something I personally adore, a piece with a story to tell. A stone specifically chosen for each piece, set step by step, silver hand forged. This is something I truly put my heart and soul in, and I hope its something that you appreciate for years and years to come