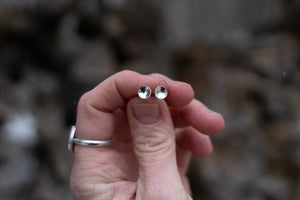 These are simple little wearers. Perfect for everyday, and stocking stuffers. Or for your neighbor you dont know what else to get them. 
Concave little 6mm round discs, attached to a sterling silver post. 
All items are handmade by me, and may have natural imperfections. This is something I personally adore, a piece with a story to tell. A stone specifically chosen for each piece, set step by step, silver hand forged. This is something I truly put my heart and soul in, and I hope its something that you appreciate for years and years to come.